Cannabidiol – commonly known as CBD – is a non-impairing compound found in hemp or non-hemp plants that is rapidly growing in popularity as a health and wellness supplement. While CBD is extracted from the hemp plant, it does not have the same psychoactive effects on humans as marijuana. Rather, it is used by many as a self-medication solution to treat chronic pain, anxiety, inflammation, and insomnia among other common ailments.
While scientists are still researching how CBD affects the body, The U.S. Food and Drug Administration (FDA) has already approved certain medicines that contain purified CBD from hemp to help treat rare seizure disorders, and the FDA is continuing to evaluate its efficacy for other medicinal treatments. 
The market for CBD products has experienced a boom over the last five years. Sales of CBD products in the United States totaled $4.17 billion in 2022, and they are expected to grow to over $4.4 billion by 2024 according to Statista. The sales of CBD beverages alone – only a small percentage of the total CBD market – have reached $19 million annually.
In 2018, Congress removed hemp from the federal Controlled Substances Act, effectively legalizing CBD. However, for programmatic advertisers, a long-standing barrier has been Google's ban on advertising CBD products. In December 2022, Google relaxed that policy, meaning that advertisers can now engage audiences for CBD products via Google Ads. For those advertisers, and anyone aiming to engage audiences who may be interested in CBD products, the BDEX Audience Taxonomy can be of use.
Who are CBD Users?
Before exploring the CBD-related audiences available in the BDEX taxonomy, let's first define who typically uses CBD products and why.
One in three U.S. adults, and half of millennials (born between 1981 and 1996) have tried a CBD product according to Morning Consult's 2022 State of Food and Beverage report. Millennials are especially attracted to CBD for its mental wellness benefits, which nearly half of them believe it can help with. The report also stated that baby boomers (born between 1946 and 1964) were more likely to express interest in CBD creams or lotions than other categories of CBD products.
While the CBD industry is vast and cuts across many different demographics of users, there are certain groups that use CBD more frequently than others. According to research from the National Institute of Health (NIH), CBD use is especially common among people who use cannabis medicinally. Medical care providers state that the top reported reasons for CBD use among patients are anxiety, depression, insomnia and pain. Additionally, psychological problems such as stress and insomnia were the leading motivations for use among younger CBD users, while pain was the most prevalent reason for use within a sample of older CBD users. 
CBD Segments Available in the BDEX Taxonomy
For programmatic advertisers aiming to engage audiences who might be interested in CBD products, the BDEX taxonomy offers a number of segments that could be of use. As shown below, audience segments are available for individuals who have expressed interest in CBD products in the past.

While the above audience is likely the most directly relevant for deploying CBD campaigns, there are also a number of related segments available that can help improve ad performance for a CBD-oriented campaign.
Health and Wellness Supplement Consumers
It is important to keep in mind that the FDA does not yet classify CBD as "medicine," but rather it is still classified as a dietary supplement. The Dietary Supplement Health and Education Act (commonly known as DSHEA) limits what health claims businesses can make about a supplement before adequate research is available into its effects. CBD is currently bound by DSHEA's laws, meaning that businesses cannot call CBD supplements "medicine" in advertisements or otherwise.
While businesses cannot call CBD "medicine," many consumers treat it as such and believe in the health and wellness effects of using CBD even if they are not yet approved by the FDA. With this in mind, there are a number of segments available for customers that want to engage these audiences. For example, segments are available for people quick to take medicine when dealing with pain, and for individuals who claim to take preventive medicine. 

Vitamin Consumers
"Vitamin" is another word that DSHEA prohibits businesses from using when referring to a dietary supplement; however, many users believe CBD falls into this category. Additionally, CBD is sold in a variety of forms including creams, lotions, gummies, edibles, drinks, tablets and much more. 
For advertisers aiming to deploy a campaign for a new CBD gummy product for example, they can purchase audiences interested in vitamins or supplements in the form of gummy, softgel or chewable tablets.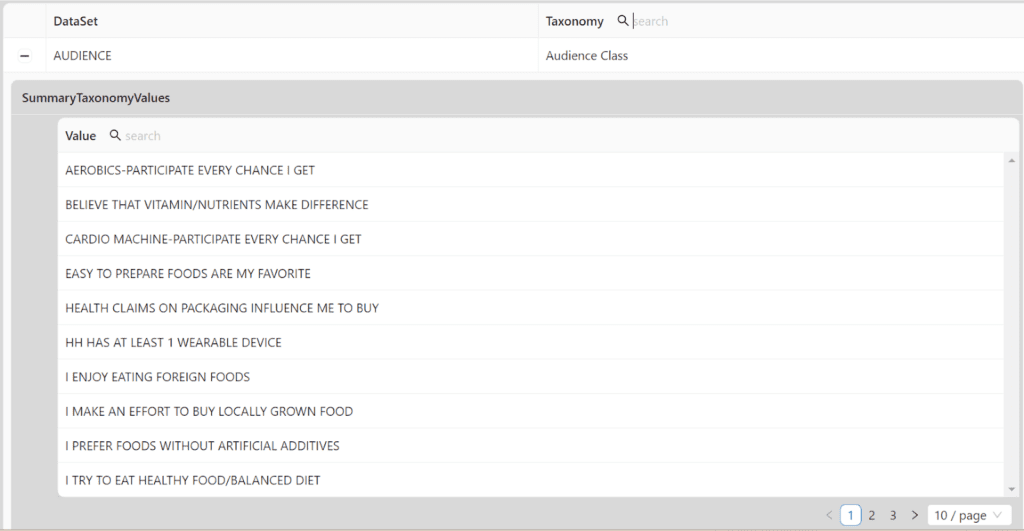 Additionally, psychographic audiences are available for purchase for individuals who believe that vitamins and nutrients make a difference in their personal health and fitness, as shown below.

Exercise, Fitness and Muscle Recovery
In the realm of health and wellness supplements, many CBD users purchase products for high-impact fitness muscle recovery stemming from activities such as long-distance running, weight lifting, or general joint and body pain. These audiences may be open to a natural supplement such as CBD to help improve their recovery process and perform at their best level. As seen below, segments are available for individuals who are avid users of aerobics and cardio equipment, prefer healthy and natural foods, as well as individuals who use vitamins and nutrients as part of their personal health routine.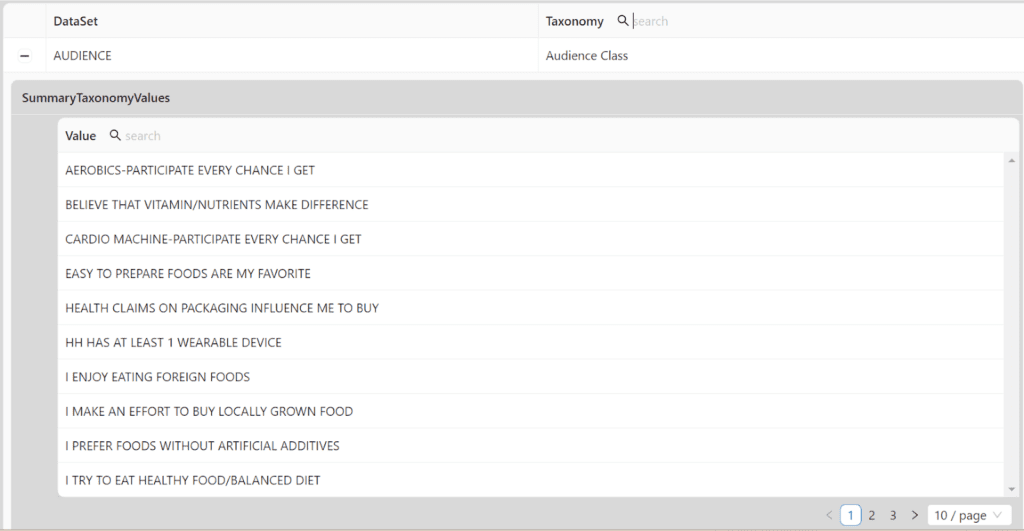 To browse through BDEX's full list of wellness segments and discover how you can improve your audience targeting and ad performance, explore the BDEX Taxonomy here.