Sports are a cultural centerpiece for Americans and people around the world. More than two-thirds of Americans report being fans of at least one sport. Additionally, Americans with higher income and higher education levels are more likely to have participated in at least one sport within their lifetime – making them more likely candidates to be viewers and fans of sports later in life.
The modern sports viewership landscape is changing dramatically with the advent of streaming services and CTV, as well as sports gambling now being legalized in 36 states and Washington D.C. Access to new channels for live sports from around the world – and for some the ability to wager on games – is drawing in new audiences of sports fandom like never before.
There are a variety of ways for programmatic advertisers to drill down into specific sports audiences and demographics using the BDEX taxonomy. We have covered individual sports segments in blogs in the past, but below we will explore some demographics of who sports fans are, in addition to highlighting a selection of the wide variety of the audience segments available for purchase in BDEX's taxonomy.
Who's Watching Sports?
The short answer is a lot of people from different age, gender, ethnic and economic backgrounds. Major global events like 2022's The World Cup Final match drew more than 1.5 billion viewers from around the world according to Sports Illustrated. But outside of these major global events, regional and national sporting events still maintain massive numbers of viewers. The 2023 Super Bowl LVII received approximately 200 million viewers or 60% of all people in the United States according to Nielsen ratings and the NFL.
But who are these viewers? It's easy to lump groups of viewers into buckets like "football fans," however when we dig into the demographic research of sports fans we find out these audiences are quite diverse in age, gender, location, and more.
According to an Ipsos report, football is the fan favorite in the United States, even as younger Americans are increasingly interested in soccer and professional basketball. Women and girls represent 46% of the NFL's total fanbase in the U.S., accounting for 84 million female fans in 2021 according to USA Today. Additionally 56% of women and girls ages 8+ in the U.S. are fans of the NFL, making the NFL the No. 1 league among this demographic.
Associated Press reports that 37% of hockey fans are female with 26% growth since 2016. Most of those new fans are likely within the 18-49 age demographic since nearly 40% of all NHL fans are under 50.
Most traditional cable channels now also have an affiliated streaming service such as ESPN+, MLB TV, NFL+, Fox Sports Go, Hulu + Live TV, among others. Watching live TV is more common among older sports viewers, whereas streaming sporting events through CTV is more popular for audiences under 35 – making CTV a critical component to live sports advertising especially for Millennials and Gen Z audiences. 32% of Gen Zers said they watch live sports through authorized streaming services, compared with 28% who watch via broadcast or cable TV according to Morning Consult. Additionally, social channels like YouTube, Instagram and TikTok are Gen Z's most popular sources of sports news.
This all goes to say that for any given sport, the fan bases and viewership are extremely diverse. For programmatic advertisers, it's critical to drill down into specific audience segments in order to maximize ad performance. With that in mind, here is a selection of the top audience segments and categories available in BDEX's taxonomy:
ESPN Segments
ESPN isn't called "the worldwide leader in sports" for nothing. The global network – owned by the Disney Corporation and its affiliates (ABC, Disney Channel, ESPN, Freeform, FX, and National Geographic among others) – truly is a central hub for fans of all sports. Its flagship news program SportsCenter changed the way Americans and people around the world watch and follow sports. The network now comprises live sports, analysis, social and digital news, radio, podcasts and many other forms of viewership, all of which can help programmatic advertisers drill down into more specific target audiences.
As shown in the graphic below, there are a litany of ESPN audience segments available in BDEX's taxonomy including ESPN viewers, people who watch SportsCenter, and even viewers of specific ESPN programs such as Pardon the Interruption, NBA games, NASCAR, college football, and more.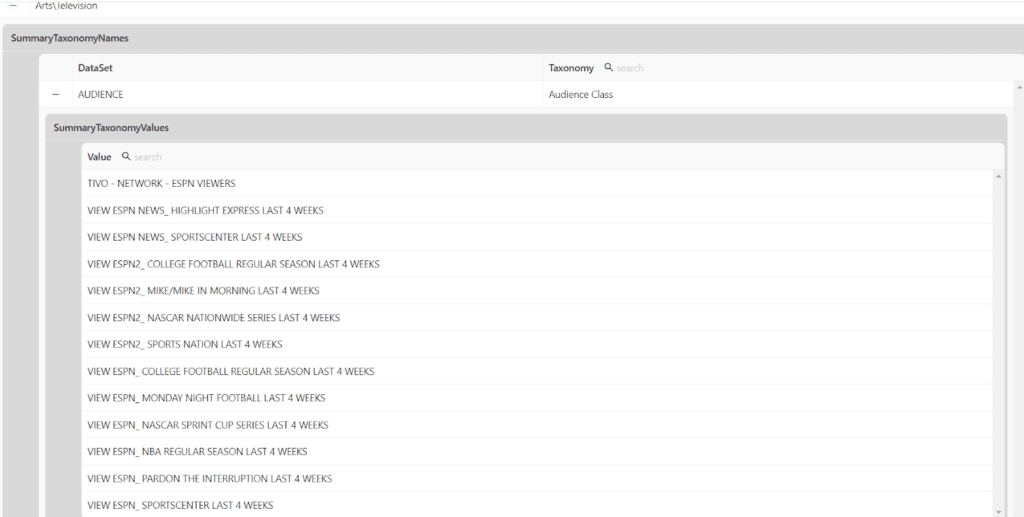 Audience segments can also be found in the BDEX Taxonomy for visitors to ESPN.com, readers of ESPN the Magazine, and owners of subscription services such as ESPN+.

Sorting Audiences by Sport, Channel, Event, and More
Within BDEX's taxonomy, segments can be sorted by a number of audience characteristics. As shown below, advertisers can find segments based on genres like "live sports viewers," or people who watched network TV primetime sports.

Identifying audiences for a particular sport can also be done by filtering audiences by visitors to a given channel or league's website such as ESPN.com, FoxSports.com, NASCAR.com, MLB.com, NBA.com, NFL.com, and many more.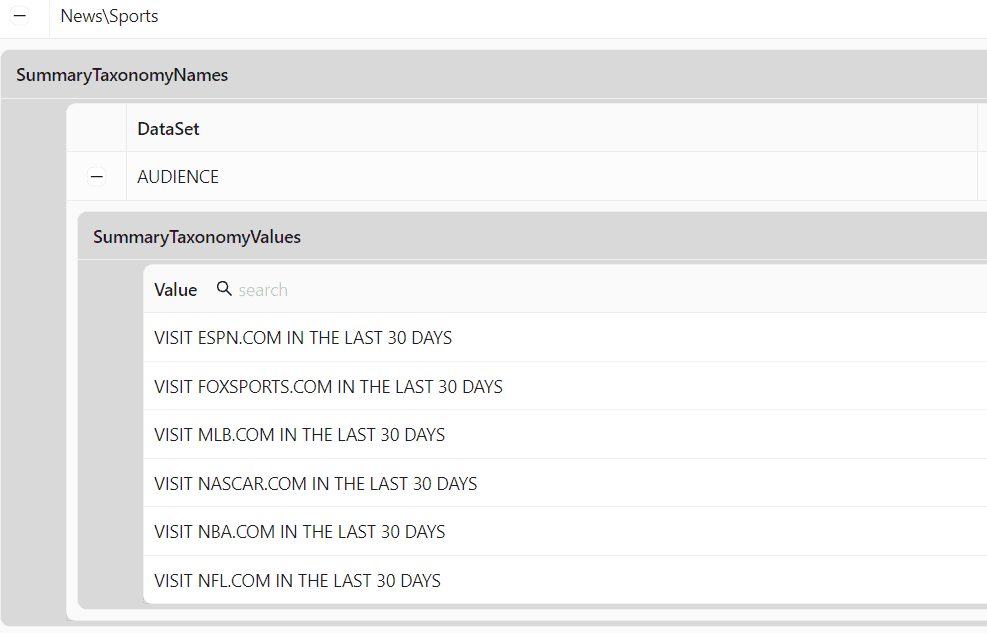 While the categories and variety of sports segments in BDEX's taxonomy is wide, it also gives advertisers the ability to get very specific within one sport, to ensure that a campaign for a product relating to a specific sport is accessing only audiences who are particularly interested in that sport.
Golf Segments
To use one example of a sport for which advertisers can get granular, let's explore some of the golf-related audience segments available for purchase. As shown below, advertisers can sort audience segments by demographic interests such as participating in golf activities every chance they get, or general interest in the Professional Golf Association (PGA) Tour.

Audiences can also be sorted by recreation and travel activities, like having an affinity for golfing while on vacation. This can be particularly useful for advertisers deploying campaigns for travel and tourism purposes for a location with warm weather and golf as a unique selling point.

Finally, advertisers can identify enthusiasts of a sport like golf based on readership of golf-related magazines and publications. As shown below, segments are available in BDEX's taxonomy for readers of Golf Digest and Golf Magazine within the last 6 months.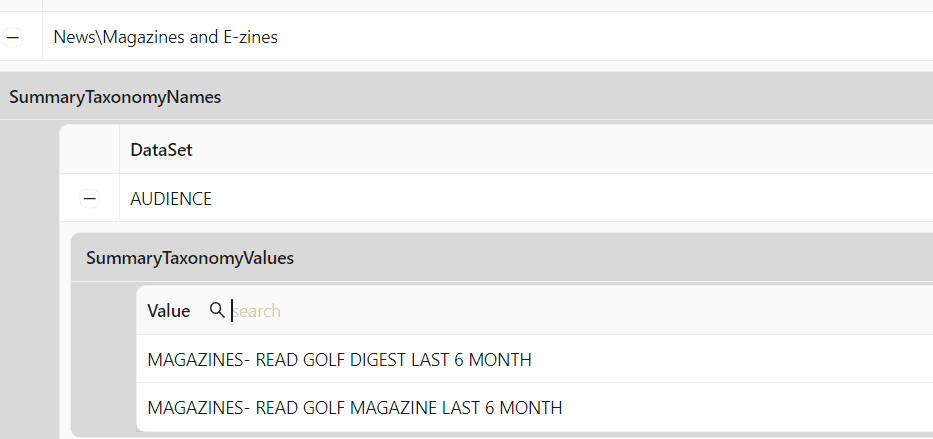 There are a variety of ways that programmatic advertisers can target audiences for sports-related products and services using the BDEX taxonomy. Advertisers can browse these segments in addition to a host of other sports categories to find specific audiences that align with their campaign goals.
To browse through BDEX's full list of sports-related segments and improve your ad performance, explore the BDEX Taxonomy here.