How CBS Extended reach through the promotion of the "Come Dance With Me" premiere, a new family dance competition series
In 2021, CBS was the leading ad-supported television network in the United States, with an average viewership of 5.6 million viewers according to Statista.
For the launch of a new CBS family dance competition series, "Come Dance With Me," CBS drove linear tune-in to the premiere with TiVo Xtend™ CTV. CBS' advertising suite worked to extend the reach of promos for the "Come Dance with Me" premiere, with the goal of driving linear tune-in to the series premiere by extending the reach of the program's video promos with a targeted CTV campaign.
CBS has been a longstanding advertiser with TiVo, and TiVo knew CBS would be a good foundational partner to showcase their Xtend CTV offering and how it can show incremental tune-in of audiences. The foundation of the TiVo Xtend offering is TiVo's proprietary first party[DD1] , TV viewership audience data, which is analyzed and extended by BDEX using the BDEX identity graph and Omni IQ Machine Learning technologies.
As part of TiVo's CTV strategy, we at BDEX help TiVo identify the right audiences by extrapolating their first-party seed data to a full national scale. Starting with small segments of TiVo's target audience data, BDEX compares these segments to its full data set and in turn identifies audiences with similar characteristics across the country. Through this approach, TiVo can ensure that the large budgets their customers are investing in CTV campaigns are accurately targeting the audiences they want to get in front of. Additionally, since BDEX uses exclusively deterministic data (as opposed to "probabilistic" data), advertisers can be sure that the audiences they're targeting are real people as opposed to bots.
This advanced audience targeting and data cleaning approach came into play when CBS decided to activate their "Come Dance With Me" CTV campaign with TiVo Xtend across 40 million users and 200+ premium channels. It was a one-week CTV campaign, measuring reach and conversion using linear ad logs and TiVo's viewership and pixel data. CBS ran two 30-second pieces of creative. The first piece promoted the linear show 6 days in advance of the premiere, while the second creative promoted the live linear show the day of the premiere.
Campaign Results
Powered by TiVo's first-party, device-level viewership data and proprietary TV viewership audience segments, the two-part creative campaign delivered 2.5 million impressions, a 98 percent completion rate, 403k unique households, and 25 percent incremental reach during the one-week campaign deployment.
TiVo understands that programmatic advertisers want transparency and need to prove ROI when running CTV, so TiVo runs advanced reporting to prove this ROI. CBS knew it needed to extend audience reach beyond linear TV and target households that had a cable subscription.
When comparing the campaign results of CTV as opposed to CBS' linear TV schedule, CTV delivered 25% incremental reach beyond the paid linear TV schedule, while the paid linear approach delivered no additional reach beyond the CBS promo schedule per the graphic below.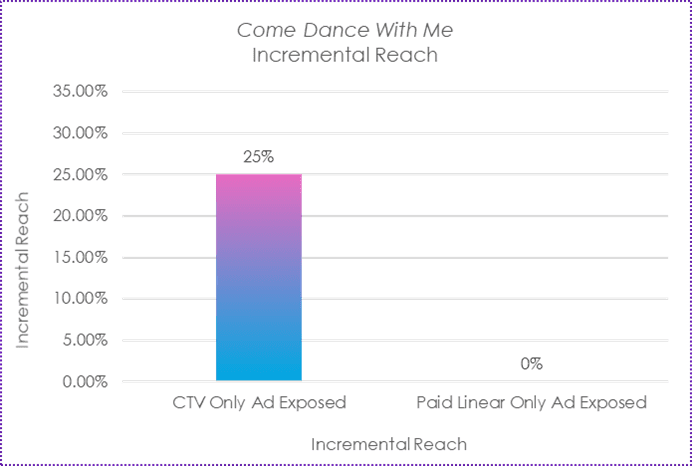 The "Come Dance With Me" tune in results, CTV drove 0.60% tune-in while the paid linear ads drove a 0.98% tune-in rate. It's important to note that the paid-linear exposed audience is a full subset of the CBS promo audience, making it unclear if the linear results drove any additional tune-in to the show.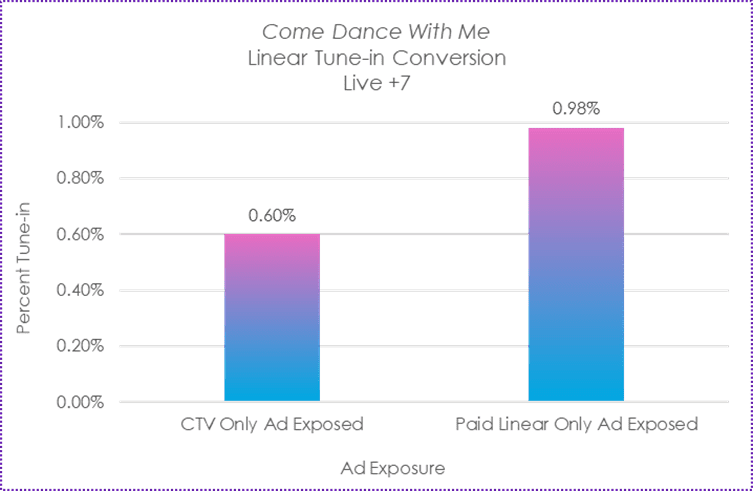 Additionally, CTV tune-in conversion built steadily with increased ad frequency, as depicted in the chart below.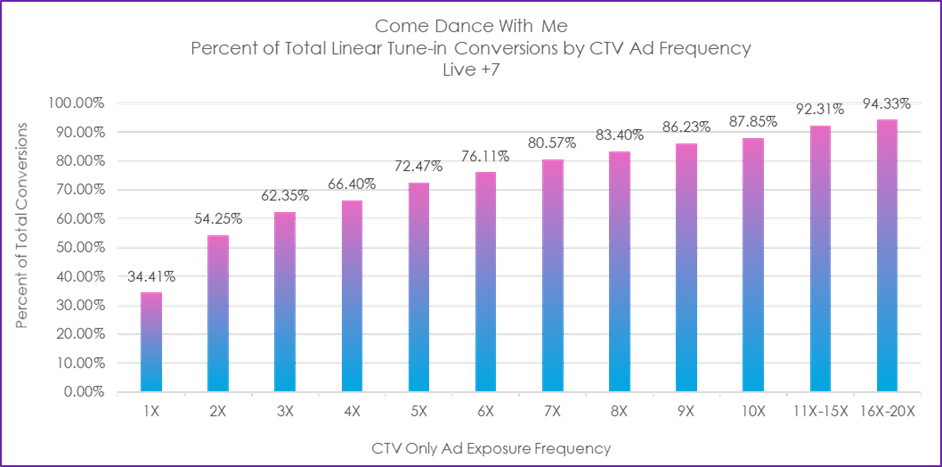 The takeaway is that when determining budget allocation between CTV and linear, CTV drives incremental reach and proven tune-in. However, paid linear is only adding frequency and it's difficult to determine how much ROI linear actually delivers.
In this video, Vice President of Advanced TV Ad Sales at TiVo Laura Stinnett discusses how CBS was able to leverage TiVo Xtend CTV to improve its reach and incremental tune-in for their campaign.
---