The finance industry is a broad and evolving ecosystem responsible for funding and coordinating most commerce in the United States and around the world. By "finance," we are mainly referring to the banking and investment sectors – which cover a variety of transactions in areas including real estate, consumer finance, savings, or insurance. It also covers a broad spectrum of asset management and investment funding including securities, stocks, and bonds, among others.
In 2020, the finance industry's global assets under management or AUM – a figure that measures the total amount of assets managed by an investment company for its clients – reached $103 trillion, according to Boston Consulting Group. With total global wealth estimated at $431 trillion, the finance and insurance sectors account for just under a quarter of the world's total financial assets.
This all goes to say that unsurprisingly, the banking and insurance industries hold a sizable piece of the pie when it comes to global capital. For programmatic advertisers aiming to engage audiences in the financial and banking sectors, the BDEX taxonomy can be of use.
Defining "Financial" Audiences
Before exploring the segments available in the BDEX taxonomy, let's more clearly define audiences in the finance and banking sectors. When we refer to "financial" audiences, we are referring to either individuals who work for financial institutions – such as banking, wealth management or venture capital – or individuals actively placing their money in these institutions.
More than 7.6 million people in the United States are employed in the finance sector, according to a 2023 IBIS World report. Gallup reports that 58% of Americans say they own stock, and 52% of U.S. households have some level of investment in the stock market, according to Pew Research Center.
Data also shows us that the higher someone's income or education, the higher the likelihood that they are investing in the stock market. 92% of people in the top 10% of the income ladder owned stock in 2019 compared to 56% of those considered in the middle class. In 2022, 89% of adults in households earning $100,000 or more invested in the stock market, while 79% of those with postgraduate education owned stock.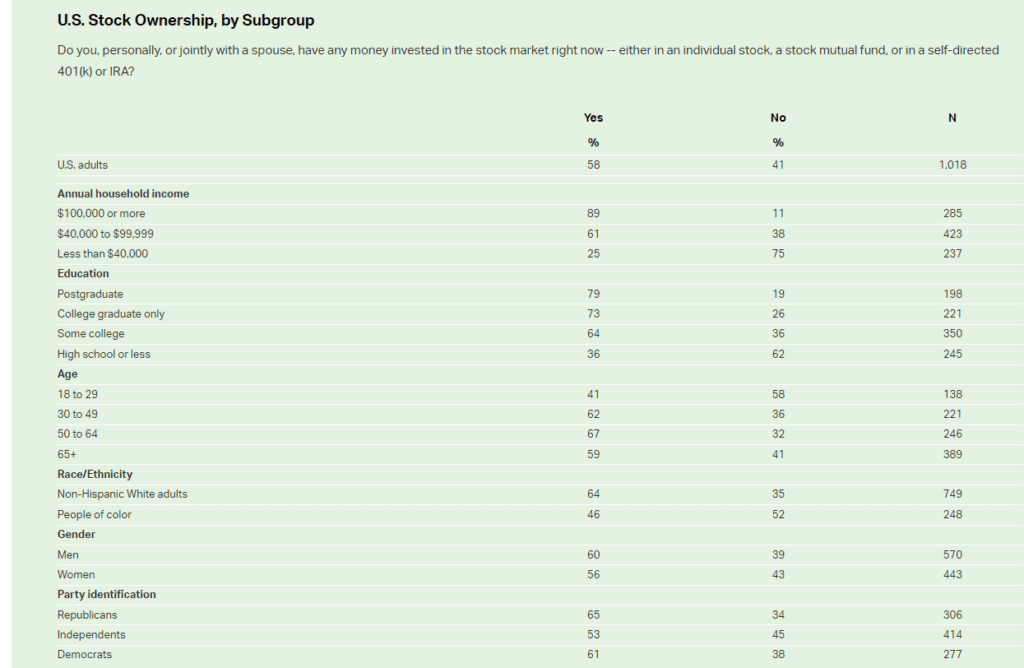 When it comes to retirement planning and saving, percentages of participation grow higher with age. Baby boomers (i.e. anyone born between 1946 and 1964), men, and non-Hispanic White and Asian individuals are demographically most likely to own retirement accounts, according to data from the U.S. Census Bureau. Men were slightly more likely (47.8%) than women (43.5%) to own a retirement account in 2020.
After baby boomers, people considered Gen X (born between 1965 and 1980) were the next most likely (56.1%) to own retirement accounts. 49.5% of Millennials (born 1981– 1996) owned at least one type of retirement account compared to only 7.7% of Gen Z (born 1997 to 2013).
Financial Audience Segments Available in the BDEX Taxonomy
Programmatic advertisers aiming to engage audiences in the financial sector can find a variety of relevant segments for purchase in the BDEX taxonomy. Below are a few examples:
People saving for retirement
By searching the BDEX taxonomy with a keyphrase such as "finance" or "retirement," advertisers can access audiences that are actively saving for retirement or other large life expenses. As you can see below, segments are available for audiences who have a retirement or college savings account.
Segments can also be found for individuals who have taken an early retirement, and working professionals nearing retirement, as shown below.
People Employed in Finance Industry
A variety of audience segments are available for individuals who work in financial services occupations. As seen below, advertisers can purchase audience segments for individuals who work in financial services, business & finance operations, or who are managers of business and financial institutions.
Advertisers can also sort audience persona segments by an individual job function such as financial advisory services, financial analyst, financial and real estate services, financial brokers, bankers, and many more related titles.
Insurance Segments
Often categorized with the financial sector is insurance. A number of insurance-related segments can also be found in BDEX taxonomy for advertisers aiming to engage these audiences.
As shown below, the BDEX taxonomy has a number of audience segments available for individuals who own auto insurance. These auto insurance segments are stratified by the value of their insurance policy, which can help advertisers be more precise in targeting individuals with premium insurance plans or more value-based offers. Segments are also sortable by policy owners at a given insurance company such as Allstate, Geico, State Farm, among others.
Advertisers can also purchase and sort segments based on the value of the insurance policies for people who own homeowners insurance, life insurance and health insurance, in addition to auto insurance.
Owners of Financial Accounts, by Institution
To get even more granular with audience segments in the BDEX taxonomy, advertisers can sort and identify owners of financial accounts by the brand or institution at which they own an account. As you can see below, audience segments are available for individuals who own credit card accounts with financial institutions like American Express, Capital One, and Chase.
There are also segments available for owners of bank accounts with nearly every major bank in the United States including Bank of America, Wells Fargo, Citibank, US Bank, Citizens Bank, TD Bank, SunTrust (now Truist), and more.
Finally, as shown below advertisers can sort audiences by owners of financial services or retirement accounts at companies like Charles Schwab, Edward Jones Financial Advisors, Merrill Lynch, or even "some other financial institution." They can also search behavioral segments such as people who have researched financial information in the last 30 days via mobile, or people who have shopped for the best deal in a financial services category.
Advertisers can also sort audiences based on net asset value, enabling them to build and target audiences of highly affluent individuals, or individuals just starting to invest in the stock market or for retirement.
For a step-by-step guide on how to navigate the BDEX taxonomy for free and determine which segments can help elevate your next marketing campaign, read our blog here.
Or, to browse through BDEX's full list of segments and discover new audiences, explore the BDEX Taxonomy here.