What holiday audience segments are advertisers using this year to improve ROAS? This holiday season will be competitive for advertisers. They'll compete for the mindshare and attention of consumers around the world.
Marketers are aware that online shopping now represents a majority of holiday purchases. 57% of consumers in the U.S. intending to shop online for the 2022 holiday season according to Statista. Marketers are preparing for and iterating their strategies for the rush of holiday shopping. While doing so, they must consider the audiences they target above all else.
Many platforms deploying ad campaigns provide advertisers with example audience segments, but often these segments are outdated, irrelevant or even bot accounts – wasting valuable ad budget dollars targeting the wrong audiences. Alternatively, many marketers are turning to buying their own audience segments so they can ensure they are accurately targeting the most relevant audiences for their products or services.
BDEX's Taxonomy shows marketers data on holiday audience segments that are readily available to use to target audiences for digital advertising campaigns. Below are three examples of how marketers might identify relevant segments for their audience through BDEX's taxonomy:
Taylor Swift Fans
Taylor Swift will undoubtedly be a theme for gift givers and receivers alike this holiday season. Widely respected as a marketing savant, Swift is currently rolling out a diverse portfolio of music products, concert tickets, and apparel ahead of the 2022 holiday shopping spree. The pop music superstar recently released a record-setting album "Midnights." Swift became the first-ever artist to crash Ticketmaster the day her tour tickets went on sale. Ticketmaster said the live ticket sale event had "historically unprecedented demand with millions of people showing up to buy tickets."
What seems clear is that getting Swift gifts in front of her fans will be a recipe for success this holiday season. But how would programmatic advertisers find these fans to target digitally?
Finding audience segments can start by searching for a generic keyword and then choosing a relevant industry. For an audience of Taylor Swift fans, we started with "music" and then selected the "Arts/Music" industry as a place to start. As you can see in the screenshot below, there are a number of subcategories within the Arts/Music genre from which marketers could choose as a relevant target audience for a digital campaign. Two of these segments that might be relevant to target Taylor Swift fans are:
DIGITAL MUSIC SERVICE USED LST 30 DAY_ SPOTIFY" — This audience of nearly 76 million have all used Spotify in the last 30 days
EVENT ATTEND MOST LAST 12M_ CONCERT-ROCK/POP — This audience of 122 million have been to a rock or pop concert in the last year.
Advertisers could also sort relevant segments with other related keywords including "concert," "streaming," or "Ticketmaster."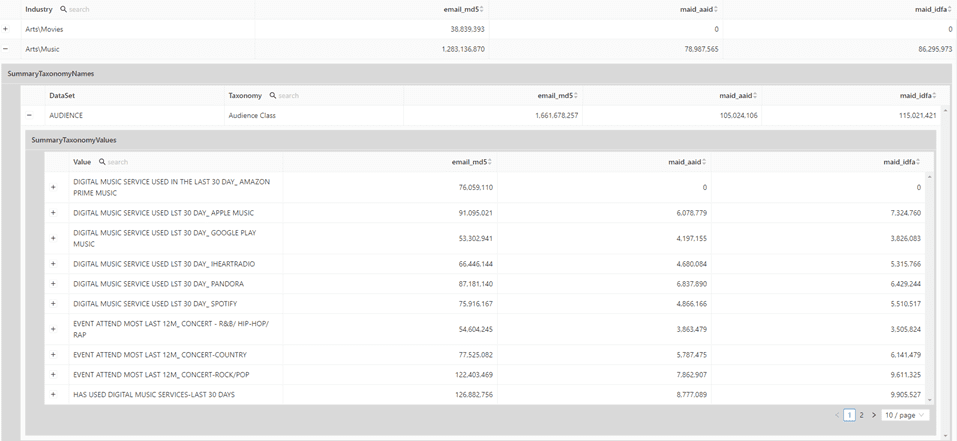 Consumer Technology Audiences
Another highly trafficked market within the holiday shopping continuum is consumer technology. To find relevant consumers in this vertical, marketers can start with a generic search term such as "tech." Within tech, there are a plethora of options that will populate in BDEX's taxonomy. But for our purposes the most relevant of these is "Shopping\Consumer Electronics."

Within the "Shopping\Consumer Electronics" category, you'll see audiences are stratified by the technology adoption curve. This allows advertisers to target audiences based on where they believe consumers are in the adoption cycle. Advertisers can also browse other industry categories which may be relevant depending on their products including "Shopping\Phones," "Computers\News and Media," or "Persona/Home."
Sustainability-Focused Segments
Consumers are increasingly buying products that are either sourced sustainably or made from sustainable materials. Plus, there are a number of segments within BDEX's taxonomy to support these audiences.
A keyword search for "environment" uncovers a number of relevant segments. The example shown below "HH CONTRIBUTED TO ENVIRONMENTAL LAST 12M" is a list of consumers who have contributed to environmental causes in the last 12 months. Under this keyword search, users can also find segments that have chosen methods of transportation that are environmentally friendly, people who think environmental considerations are important for decision making, and consumers who believe that environmentally friendly companies are good for business.

Programmatic advertisers can also find sustainability-oriented audiences using keyword searches for "recycle," "sustainable," and "green."
For a step-by-step guide on how to use BDEX's free, self-service taxonomy search tool to determine which segments can help elevate your next marketing campaign, visit our blog here.
Additionally, to browse through BDEX's full list of segments and discover new audiences, explore the BDEX Taxonomy here.
# # #